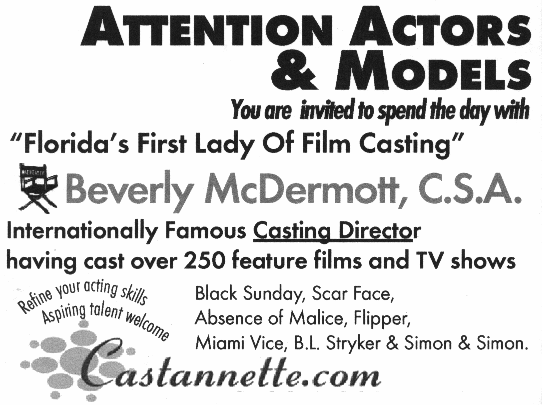 Beverly McDermott Acting Seminar $100.00
Castannette Studios Acting Workshops
For the actor who is serious about his/her acting career, Castannette Studios Acting Workshops present two separate 6-week Programs. Offered throughout the year, these workshops are designed to meet the training and achievement needs of both the novice and professional actor and are based upon the individual development of each participant.
The Novice Level Workshop
The Novice Acting Workshop is designed for those with little or no experience in acting or acting for film/video or vocal acting. It emphasizes the basic theory, practice and elements of acting professionally. Utilizing a select combination of exercises, both physical and mental, as well as scene and monologue study, the workshop is designed to create an individual's understanding of character development, emotional truth, vocal and physical demands, and script analysis. The classes are non-traditional in nature and each participant is required to devote additional hours away from the Workshop for their scene and monologue rehearsals.Novice Workshops help prepare the inexperienced actor for the specific demands placed upon them when auditioning for such diverse media as commercials, sitcoms, soap operas, voice-overs, television dramas, and feature films.
The Professional Level Workshop
The Professional Acting Workshop is designed to strengthen a working actor's individual mastery of character development, emotional truth, vocal and physical commitment to material, and most importantly script analysis. Through intensive scene study and exercise, the actor will sharpen his/her abilities to break down physical and internal inhibitions and find the most effective personal resources for the creation of truthful characters. This Workshop will help provide the actor with further insight into preparation for auditions and screen tests while pinpointing weaknesses and strengthening performance. The Professional Acting Workshop will help you develop more effective techniques. Turning a cold reading into a hot performance.
The Goal of The Professional Acting Workshop is to help the working actor to further develop creating Off-The-Cuff Improvisations that define 3-Dimensional characters,presenting compelling Monologues and Performances that emotionally stimulate, involve and move audiences.
Acting Workshop 6 weeks $ 350.00
Digital Headshot and Web Page $75.00

Headshot 2 looks (Female) $ 325.00
Headshot 2 looks (male) $ 275.00